With 9 days to go until my appointment, the excitement and suspense are building!
Taken this morning, here's how my average is looking: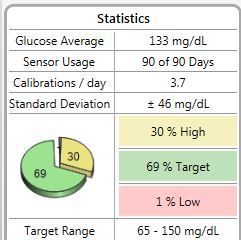 An average BG of 133 = 6.3% by my endo's chart, and 5.9% by Dr. Bernstein's chart.
From December to March, my average was 186 (or an A1C of 192 in March, which was an 8.3 / 7.6%).
I wonder how much lower I can get it in 9 days...hmmmm....