I want this to be a vivid reminder of why high carb diets do not work for diabetics, and why I struggled for 17+ years with wild roller coaster numbers.
From 12am until 6pm (18 hours), my blood sugars stayed steady under 100. All I ate at 10am was 3 hard boiled eggs mixed in some sour cream. My meal bolus of 2 units covered the protein perfectly.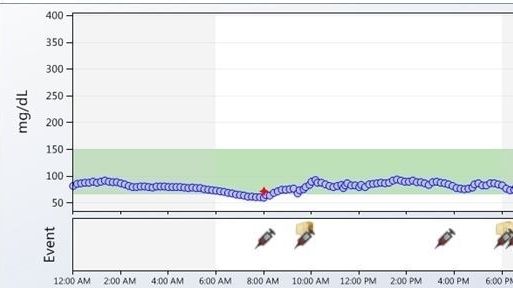 For dinner, my husband and I celebrated the week's victories at Outback. At 6pm, I had half a plate of cheesy fries (50g - 5 units), a house salad with tomatoes, cheese, and vinegar & oil, a 9 oz Outback Sirloin (4 units), and steamed broccoli. I drank water throughout the whole meal. For dessert I splurged with a mini Strawberry Milkshake (30g - 3 units). I estimated the carbs as best I could and bolused what I thought would be enough to cover them, including the protein in my steak. This was the result.
I went up to almost 200 2-3 times. It took 18 hours to come back down, even with multiple corrections. This is why I don't do carbs anymore.