Increasing my Levemir has drastically improved my numbers, even to the point where I'm bolusing even less for meals. I've been able to keep them under 100 overnight, even in the 80s and 70s! Here is what the past 10 days have looked like:

And stats for the past 5 days, looking amazing with averages in the 90s and high 70s! Those lows aren't entirely accurate...Dexcom seems to think I went lower than I really did on those days...I only went down into the 60s.
Slight improvement in these stats (average down to 106 from 108; high 12% target 84% improved from high 13% target 83%). Glucometer 104 mg/dl 14 day average, 115 mg/dl 30 day average.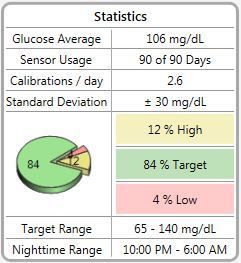 My quarterly stats, showing a drop in mean/average glucose from 130 to 106 mg/dl. 84% in target from July - October, up from 65% in target from April - July.
Average glucose of 106 = A1C of
5.3 (ENDO)
5.1 (Dr. B)
Can't wait to see my result at the end of the month!